Tomatoes are the star here, so when local tomatoes reach their peak of perfection, my family eats this.  Often.
     Preparation is super simple.  The sauce is fresh and no-cooking is involved. (Except for the pasta.)  The most important aspect for its scrumptiousness is vine ripened, flavor-packed tomatoes.  Any tomato variety will do:  cherry tomatoes, to Early Girl, to gi-normous beefsteaks.  You can mix and match tomato varieties for a full spectrum of tomato-i-ness, and making for a colorful presentation too!
     Shop your local farmers' markets for the widest selection of tomatoes.  There are so many varieties it could be daunting, so if in doubt start with Dry-Farmed Early Girl, Cherokee Purple or Red Brandywine varieties.  These are my current favorites, and each has a distinctive tomato taste profile and texture.
     I took these photos recently at the Grand Lake Farmers' Market to show just a few farms' bumper crops.  Notice they display their tomatoes with bunches and bunches of basil?  They are a perfect pairing; and when you see them together, it's time to make this sauce.
     Obviously if you grow your own tomato and basil crops, all's the better!
     Almost any pasta shape will do, but steer clear of too big or thick.  It will inhibit absorption of the sauce.  I generally prepare this with cappelini, Angel Hair pasta, for fastest cooking time.  As a summer bonus, this keeps your kitchen cooler on hot days, or more likely near San Francisco a "Spare the Air" day.
     The flavor profile of the dish can be changed up significantly, but this recipe is pretty close to my favorite way to enjoy it.  Here are a few variations for future reference:
Substitute cilantro for the basil and go in a south-of-the-border flavor profile with cumin and chiles;
For a hint of Spain, use flat leaf parsley, adding paprika, piment d'Esplette and blooming a pinch of saffron into the sauce;
Can't handle raw garlic? Give it a quick sauté in olive oil, or substitute scallions or shallots for a mild, but important, flavor boost.
Substituting "zoodles" is fine too, if you must.
     Let me know how you adapt the recipe!  Sharing is caring…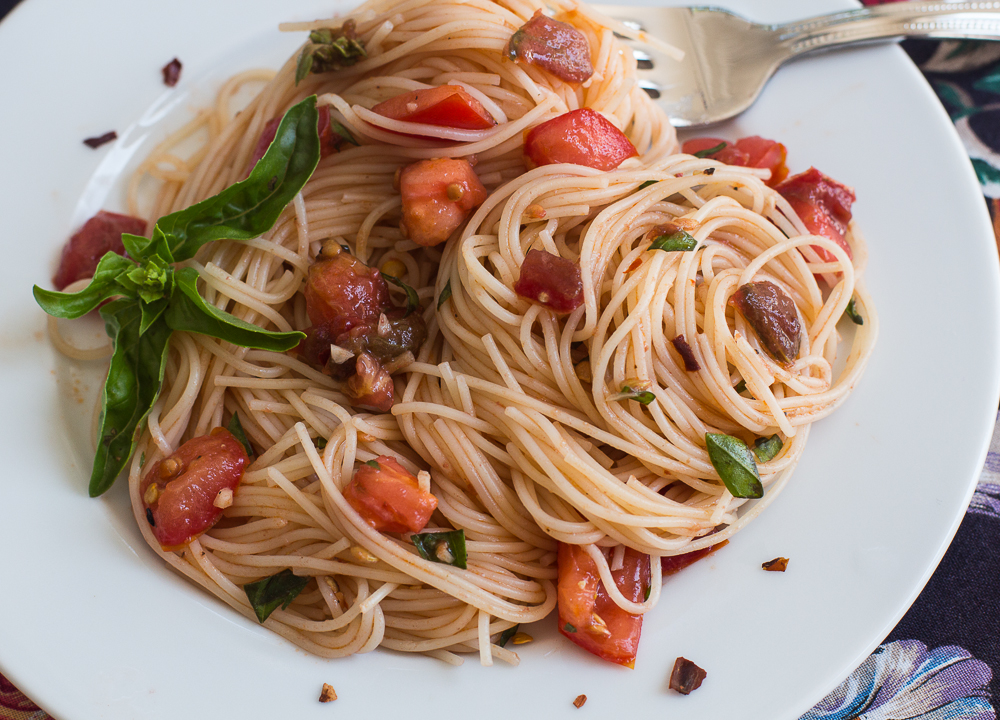 Fresh Tomato Basil Pasta
Makes about 5-6 cups
  INGREDIENTS
1-1/ 2 pounds vine-ripened tomatoes, any variety, coarsely chopped; about 3 cups
2 – 3+ tablespoons fresh basil, minced, to taste
1 – 3+ cloves fresh garlic, minced, to taste
2 tablespoons extra-virgin olive oil
1 tablespoon red wine vinegar
1/ 2 teaspoon table salt
1/ 2 teaspoon black pepper, freshly ground, to taste
Pinch – 1 tablespoon chile flakes, to taste
1/ 2 pound pasta, Capellini (angel hair) or any that is not too thick
PREPARATION
In a large, non-reactive bowl, combine chopped tomatoes (pulp and seeds included), garlic, 1 tablespoon of the minced basil, vinegar, olive oil, chile flakes, salt and pepper.  Taste and adjust seasonings accordingly.  Sometimes if tomatoes are particularly sweet, I add additional vinegar.    Cover with cling film and set aside at room temperature for at least 30 minutes.  Add the remaining 1    – 2+ tablespoons of minced basil just prior to adding the pasta.
Bring about 2 quarts of water to a rapid boil in a large saucepan.  Season the water liberally with salt.  Cook pasta according to package instructions, just to the al dente stage.  Remove from heat and drain well.  Do not rinse the pasta.  Add the still hot pasta to the tomato basil sauce and stir well to combine.
Garnish with more basil.  A flourish of freshly grated Parmesan cheese too, as you like.