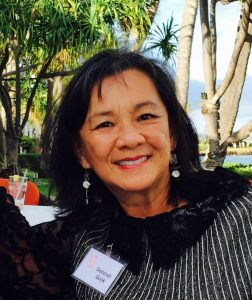 A recent trip to Hawaii is the inspiration for this chicken recipe.  Within a short week's time, I enjoyed several variations of the wildly popular misoyaki butterfish, made famous by chef Nobu Matsuhisa.  Small wonder this dish is so popular.  It.  Is. THAT.  Good!
   Misoyaki butterfish is typically prepared with Black Cod, also called butterfish owing to its creamy texture.  One might certainly substitute another fish for the Black Cod, but using chicken may bring wider appeal for its familiarity (read:  acceptance to new flavors for a familiar food) and accessibility (read:  much easier on your shopping budget).
   The instructions for misoyaki call for marinating the fish for several days, two to four.  I suppose one could marinate chicken for as long, but I'm more comfortable with an overnight or up to 48 hour marinade, unless your chicken is so fresh it has the echo of a cluck when putting it in its salty-sweet immersion.  And your refrigerator is very, very cold.
   If the Japanese wines, mirin (typically used for cooking) and sake (typically used for beverage), are new to you; do not fear.  They are both readily available in most well-stocked Bay Area markets.  Extra bonus points if you select sake and mirin made right here in Berkeley, CA at Takara Sake.  I enjoy several of their offerings, and used Sho Chiku Bai Nama Sake Organic for my recipe.
   If you haven't been to the Takara Sake tasting room, I highly recommend checking it out.  Once inside you will feel transported to Japan, and into a serene environment with very knowledgeable staff to take you through varying flights of sake, from clean and dry to highly sweet.  Their museum and educational displays on sake history and production are very well done.
   I also highly recommend trying your hand at preparing this dish with Black Cod sometime.  The marinade is the same (although my version includes far less sugar, and cooking method and time differ).  The link for my original source is below.  You can watch Chef Nobu prepare it here.  And if you're more into the details, here's an interesting article on preparing the recipe from the folks at The Food Lab/Serious Eats.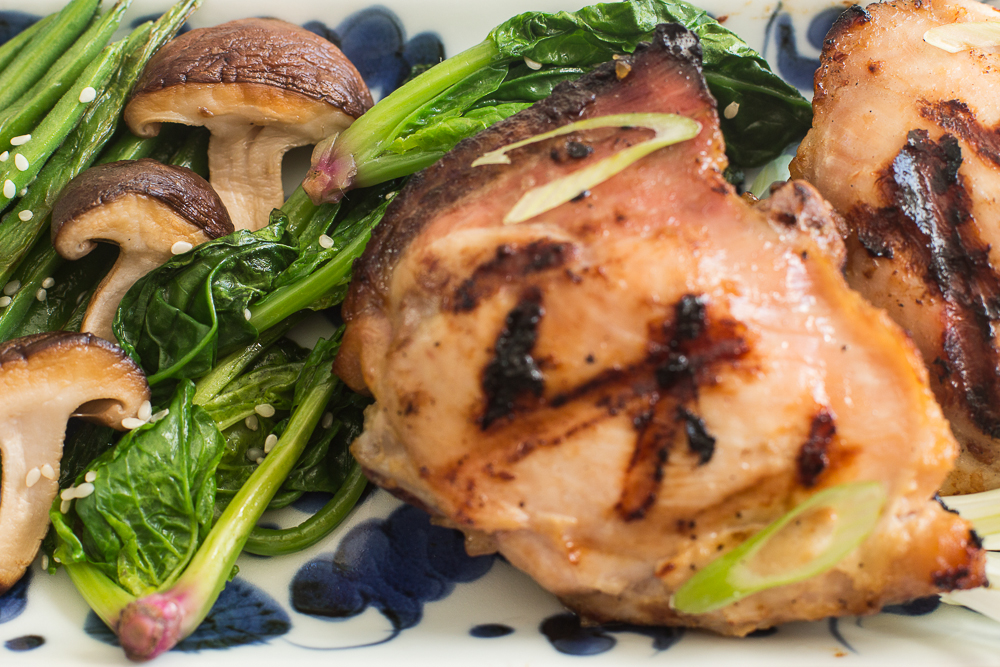 Miso Marinated Chicken
Adapted from Nobu:  The Cookbook/via Epicurious.com
Ingredients:
6-8 chicken thighs, boneless skinless (substitute chicken breast if you must)
1/ 4 cup mirin (substitute dry sherry, sweet marsala, dry white wine)
1/ 4 cup sake
1/ 2 cup white miso paste
1 tablespoon sugar
Instructions:
Bring the mirin and sake to a boil in a small saucepan over medium-high heat. Let the wines boil for about 20 seconds to burn off the alcohol.  Reduce the heat to low and stir in the miso until it dissolves.  Increase the heat to medium-high and add the sugar, stirring until it dissolves.  Remove the pan from the heat and let cool to room temperature.  This yields about 1/ 2 cup of marinade.
Place the chicken in a large bowl (suggest glass or stainless steel). Add the cooled marinade and mix well to ensure the chicken pieces are evenly coated with marinade.  Cover and store in the coldest part of your refrigerator overnight, up to two days.
When ready to cook, preheat BBQ or grill pan. Grill over medium, indirect, heat (not over open flame) for 5 minutes, then flip the pieces over and grill for 5 minutes on the other side.  Turn the chicken pieces over onto the first side cooked and grill an additional 5 minutes.  Turn the chicken one last time if needed to complete cooking.  Total cooking time, about 15 – 20 minutes, will depend on the thickness of the chicken pieces and the heat of your grill.
Check the chicken every few minutes. The marinade has high sugar content and will burn quickly.
Note:  For fancy grill marks, the first side you place onto the grill is the "top" of the piece.  When you flip the chicken back onto this first side, turn it to a 90-degree angle from the initial grilling position.