We are finally getting our winter storms here – as I write in the first week of March it's finally raining. Much needed raining!  But previous bouts of warmer weather have brought some spring produce to market earlier than usual, and just in time to add welcomed variety from winter greens.  Imagine my delight in seeing local asparagus make their appearance over the last couple weeks!
Except it's still cold outside.  As in record-low-temperatures-cold.  So I've used my earliest asparagus purchases to make this warming soup with a hint of spring to come.
I have been a longtime fan of Heidi Swanson's 101 Cookbooks blog and now several cookbooks.  Her appreciation for using fresh, seasonal ingredients; and simple but imaginative preparations speaks to my sensibilities.  It's a bonus she's based in San Francisco, so when she posts seasonal recipes, I can enjoy the same bounty at the same time.
Her "Simple Asparagus Soup" recipe uses green curry paste for the punch of flavor.  I'm a fan of her version, and I encourage you to try it out.  Jarred Thai-style green curry paste is widely available in most grocery markets, and you'll save the time it takes to make the cilantro mint chutney.  Oh wait – you can make a scratch Thai-style green curry paste too!  Silly me…
Speaking of scratch-made:  the cilantro-mint chutney – I hope you'll give it a try, even though prepared versions are also available.  It comes together in a jiffy, with all the heavy-lifting done by the blender.  You may recall I also use it in my bhel puri chopped salad.  I'm known to fold a defrosted pod, or two, into hot steamed rice for a fun change.  Delicious and adds a glorious green hue!
You'll see I'm serving the asparagus soup with a stack of pappadam (poppadum), Indian lentil wafers.  I confess to purchasing prepared wafers from Vik's Market in Berkeley, and only roasting them to crisp them up.  One of these days I may take on making them from scratch, as they are a family favorite.  Oh yes, and topped with my cilantro-mint chutney…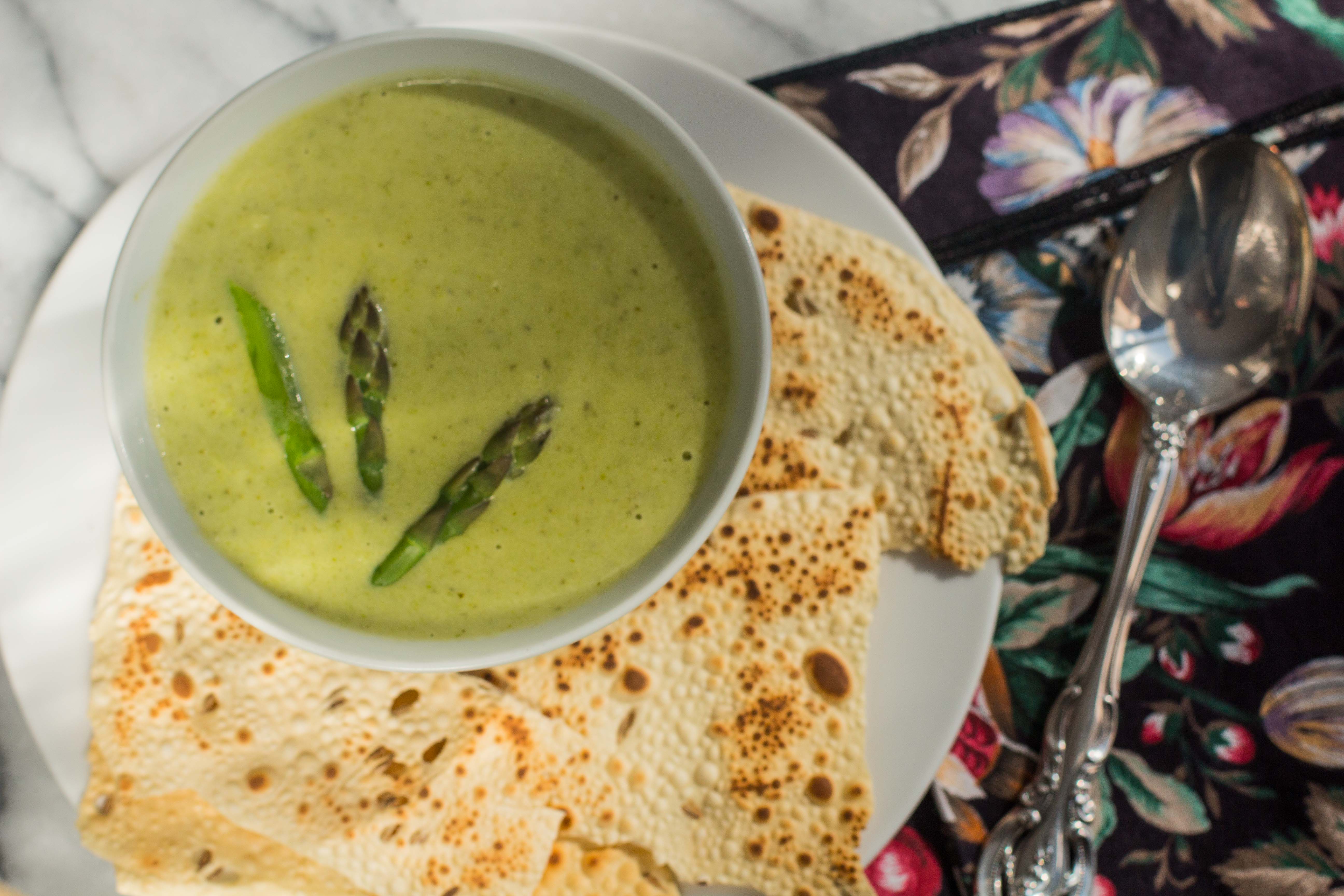 Asparagus Soup
Adapted from Heidi Swanson, 101 Cookbooks
Makes about 6 cups
2 tablespoons ghee, or unsalted butter, or extra-virgin olive oil
1/ 2 cup white onion, chopped
1/ 2 pound new potatoes, finely diced
1-2 tablespoons cilantro-mint chutney, or to taste. Recipe below.
1 pound asparagus, trimmed and cut into pieces 1/ 2" long
1 14-ounce can full-fat coconut milk
1-1/ 2 teaspoons sea salt, or to taste
1-1/ 4 cup water, or to cover
1 lemon
Fancy toppings:  chopped chives, green onion, shallots, grated hard-boiled egg, croutons, toasted seeds or nuts, yogurt, etc.
Cook the ghee/butter/olive oil and onion over medium-high heat in a large soup pan (of at least 3 to 4 quart capacity). Stir until the onion is well coated and sauté a few minutes until the onion becomes translucent. Stir in the potatoes and cook about 10 minutes, until completely tender.  Add a splash of water to help speed the process.
Add the cilantro-mint chutney and cook another minute. Add the coconut milk, water and salt.  Bring to a simmer and add the asparagus.  Cook about 2-3 minutes until the asparagus is just tender.
Use a hand, immersion blender or counter-top blender and blend until the soup is completely smooth. If using a hand, immersion blender, you will be glad for extra height in your soup pot.  There's a bit of splashing that goes on, and it's nice to keep it in the pot!
Taste and tweak:  Add more water if a thinner consistency is desired.  Taste for salt and seasonings, add a squeeze of lemon juice to brighten the flavors.
Add a flourish of toppings as desired.
Cilantro-Mint Chutney
Makes about 2 cups
2 cups packed fresh cilantro leaves and tender stems
1 cup packed fresh mint leaves
1 jalapeno or serrano pepper, or other green chile; to taste
1 – 2 teaspoons fresh ginger root, grated or minced
1 teaspoon fresh garlic, grated or minced
2 – 3 tablespoons freshly squeezed lemon juice
1/ 2 teaspoon sea salt, to taste
2-3 tablespoons of water, as needed to desired consistency
Thoroughly rinse the cilantro and mint leaves.  Spin or pat dry.  Place the leaves in the jar of a blender, then add all remaining ingredients, except the water.  Blitz and whir until the chutney is smooth.  Add water as needed to reach the desired consistency.  Optional:  Stir in up to 1/ 2 cup of plain yogurt just before serving if desired.
Tip:  This chutney freezes perfectly.  I fill silicone mini-muffin molds and, after freezing, store them to use as needed.  Once you have these gems on hand, you'll find countless ways to use them.