For years, actually decades, my family owned the Chinese restaurant within the large Roseville, California farmers market.  One of our keys to success was everything we prepared used fresh, quality ingredients and all dishes were from scratch.  This included making our own stock from chicken bones, marinating our meats, and using fresh chow mein noodles.
Lo mein was not on our menu but my mom often made a huge batch of it for our employees and fellow market vendors; usually bartering for ingredients we didn't normally use in our dishes in exchange for a few plates of steaming lo mein.  We considered it a "family meal" to be eaten on breaks or (rare) slow spells.  It was always a treat.
I've purposely written this recipe as an "eyeball-er", meaning the quantities are adjustable according to your taste, what looks good, and what you might have on hand to include in the mix.  Just figure on about four cups of primary vegetables; so instead of asparagus and snap peas use broccoli, zucchini, red peppers – you get the idea.  It's mix-and-match until it looks the way you like it.  And by all means adjust the quantities to your desired VTN ratio, vegetables-to-noodles.
The bulk of your time preparing this dish will be in slicing the vegetables.  This is true for many Asian stir fry dishes.  Once you have all the vegetables sliced, the cooking only takes about 15 – 20 minutes.
The flavoring condiments are salty, so I've not included additional salt.  Start slow with the oyster and soy sauces – it's easy to add more and adjust to taste as you go.  If you only want to keep one soy sauce in your panty, I recommend "thin"; but adding "dark" to this dish brings an additional depth of flavor.  Please don't panic if you only have one soy sauce, most of the flavor comes from the oyster sauce.
Lo mein is a homey dish.  The noodles are meant to be moist and chewy; not crisp nor slurp-y but in a wonderful middle ground.  Cantonese dishes are not often spicy, but if that's your preference, no one is going to bat an eye if you douse on the chili oil.  Asian comfort food for spring – as you like it.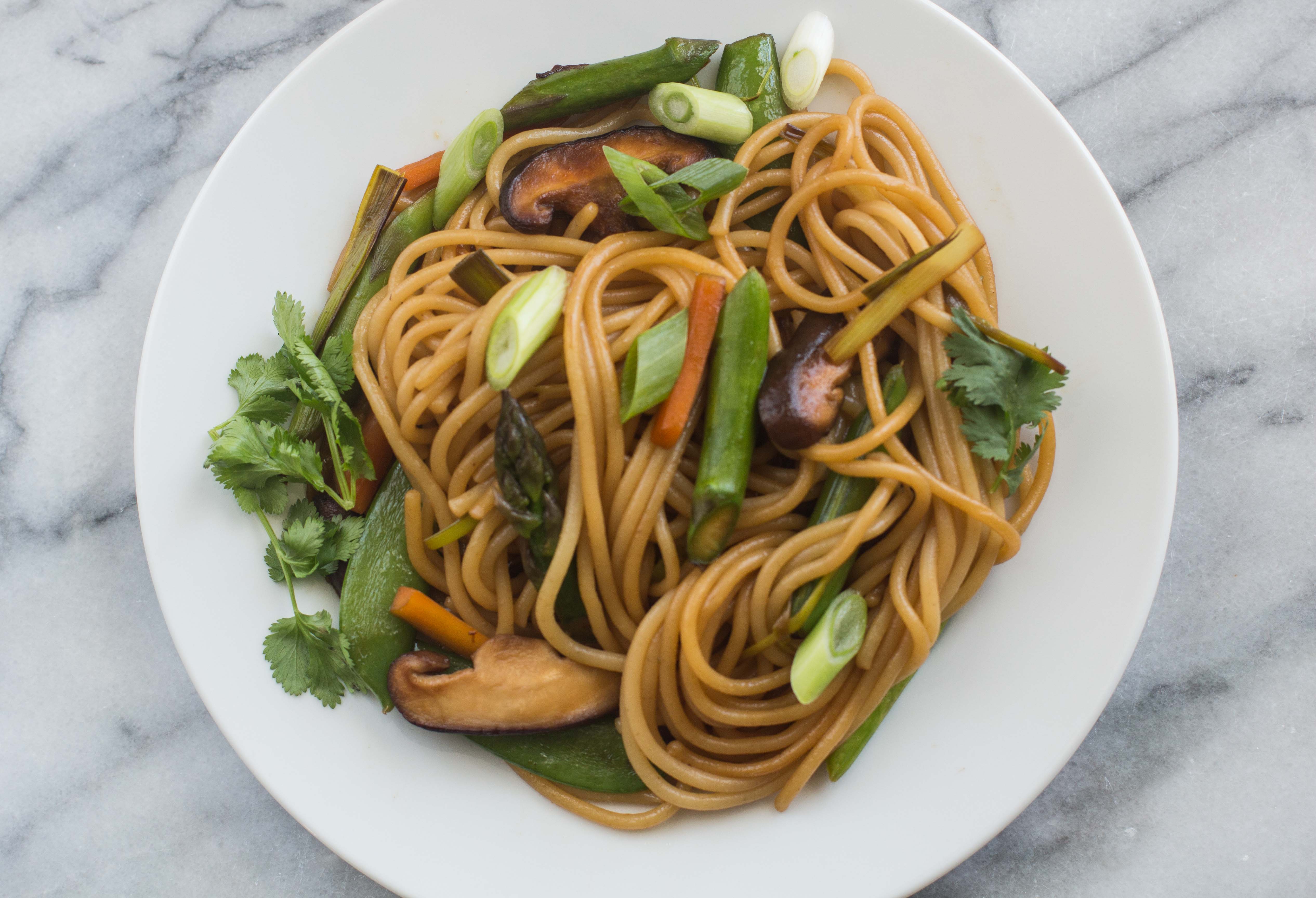 Farmers Market Spring Lo Mein
Makes 4-ish servings
INGREDIENTS
1 pound fresh Chinese wheat noodles; substitute dry chow mein noodles, ramen, even (slight gasp) spaghetti
1 – 2 cups asparagus, sliced into 1-inch lengths. Select medium spears, about pencil diameter
1 – 2 cups sugar snap peas, remove the stems and tough "strings"
1 – 2 cups fresh shitake mushroom, in 1/ 4-inch slices
1 medium leek, white and pale green parts; cut in half lengthwise, then into 1-inch lengths before slicing lengthwise again into matchsticks
1/ 2 cup carrot, cut into 1-inch long matchsticks
1 tablespoon neutral oil for stir-frying
1/ 8 teaspoon white pepper, or to taste
1 tablespoon oyster sauce, to taste
1 teaspoon Chinese "thin" soy sauce, to taste
1 teaspoon Chinese "dark" soy sauce, to taste
1 teaspoon toasted sesame seed oil
1/ 4 – 1/ 2 cup vegetable or chicken broth ("Better than Bouillon" comes in handy for this small amount)
3 – 4 green onions, sliced in 1/ 4-inch lengths
Fresh cilantro for garnish
INSTRUCTIONS
Bring a large pot of water to a boil. Cook the noodles until barely tender, 3 to 4 minutes.  Drain into a large colander and quickly run cold water over, tossing the noodles under the water to cool as quickly as possible to stop the cooking.  Drain well.
Heat a heavy skillet over medium-high heat, coat with the oil, and stir-fry the leek until browned, 5 – 6 minutes. Add the mushrooms and cook until just browned.  Add the carrots, asparagus and snap peas.  Stir fry until just barely tender.
Add the white pepper, toasted sesame seed oil, oyster sauce, and soy sauces. Stir to mix together and coating the vegetables evenly.
Add in the cooled, cooked noodles and stir to thoroughly mix in the vegetables. Tongs or long chopsticks will do the task nicely.  Add the stock to loosen up the noodles.  Make sure the noodles are heated through before removing from heat.
Garnish generously with sliced green onions and cilantro. Serve hot.