Whenever I see an Asian pear, I'm transported back to my youth and the pear farms near my family's home in southern Placer County.  Rocklin, California, to be precise.  We were fortunate to have many Japanese friends, who brought Asian pears to the area, and who had plenty of harvest to share with us.
     Eaten out-of-hand, the Asian pear's unmistakable crunch is quickly followed by the burst of sweet juices so abundant they run down your chin if you aren't quick enough to catch them all.  Common Asian pears are typically round and a bit squat.  The skin can range from pale yellow, to light green to russet.
     There are several varieties, made more prolific now they have become more popular.  Commonly found varieties include "Hosui", "Kosui" and "Shinko".  As with different apple varieties, each Asian pear type has unique properties:  sweet, tart, light and crisp, dense, etc.
     Now I'm a city gal, so I depend on my favorite farmers at the market for my supply of Asian pears.  If this scrumptious fruit is new to you, I highly recommend you seek them out!  Your local farmers market is an ideal place to try them, as farmers will be sampling a wide range of available varieties for you to taste.
     Asian pears are best eaten fresh.  They are light and crisp, more like an apple, but with a distinctive pear taste.   Do not let them ripen to the point they become soft, as  you might enjoy a Bartlett pear.  If an Asian pear becomes soft, it is well past its peak.
     The fancy chicories I've pictured here are most likely only found at a farmers market.  You might find more common varieties such as Belgian endive or radicchio at well-stocked produce aisles.  It's all good!
     The accompanying salad dressing recipe is in frequent rotation at our house lately.  Its lemon-y, honey brightness is perfect with salad greens that tend toward slightly bitter.  The freshly grated ginger adds a warming note, very timely for an autumn salad.
     By all means, take this idea and make it your own!  Possibilities for substitutions are nearly unlimited:  kale, spinach or dandelion greens would be delicious in any combination; other types of pears, apples or crunchy Fuyu persimmons are a likely substitution for the Asian pears.  Additions might include avocado and even roasted winter squash.  Fancy it up with pomegranate seeds.  Oh my!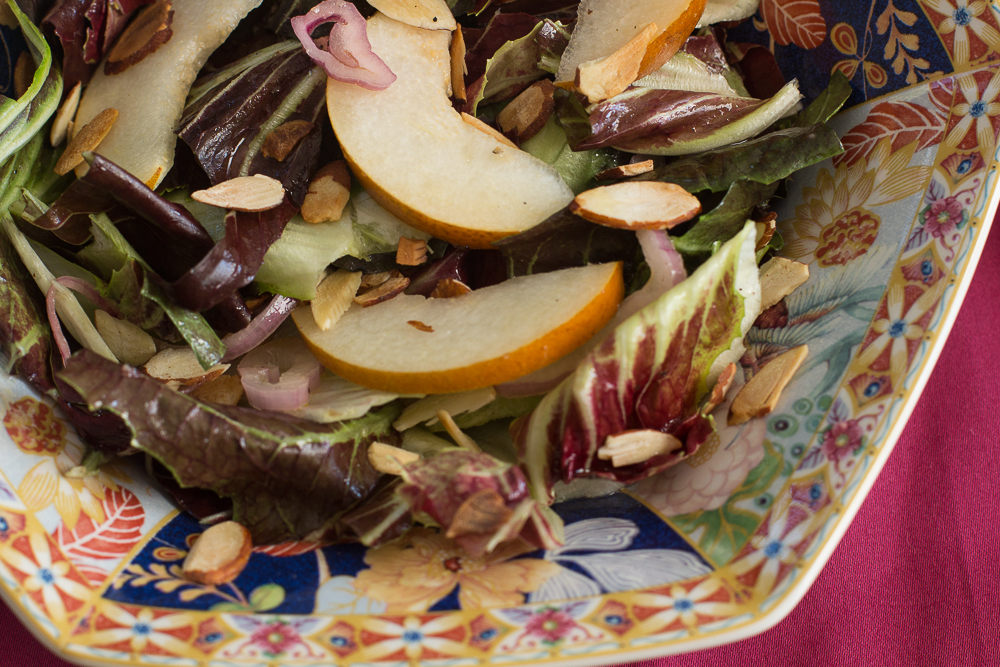 Asian Pear and Chicory Salad
For the Dressing:
3 tablespoons freshly squeezed lemon juice
3 tablespoons olive oil, mild flavored
1 teaspoon finely grated ginger, or to taste
1 teaspoon honey
Salt and pepper, to taste
1/ 4 cup shallot, thinly sliced or minced
Combine lemon juice, ginger, honey, salt and pepper in a small bowl.  Whisk in the olive oil until combined.  Add the shallots and stir to ensure they are well covered with the dressing.  Set aside at least 15-20 minutes until the shallots soften a bit.
For the Salad:
4-5 cups chicory leaves, torn into large, bite-sized pieces
2 Asian pears, sliced into 1/ 4-inch wedges
1/ 2 cup sliced almonds, lightly toasted
Combine the chicory and Asian pears in a large salad bowl.  Add in the dressing and toss to evenly coat the chicory and Asian pears.  Sprinkle on the toasted, sliced almonds and enjoy!