Sometimes that one-pound package of ground beef is begging for an inspired use.  It just sits there, daring me to come up with something slightly out of the norm to give it a sense of higher value.
I worked this up for a quick, weeknight meal with ingredients pretty much on hand.  It works with a variety of vegetables, although including Asian eggplant and Thai basil will increase its authenticity factor – should that matter to you.  Me?  I just want it to taste good.
The farmers at my local farmers market are still bringing in zucchini, eggplants, chiles and basil.  But the harvests are dwindling to a trickle now that we're into autumn harvests.  Now is the time to give this a try, while these ingredients remain readily available.  I hope you can see the flexibility of this recipe and the wide variety of ingredients you can use.
A few advance tips:
Do not fret if you do not have Thai basil.  The dish will be delicious using whatever fresh basil you have.  Try adding fresh mint leaves to the basil for an interesting switch up.
The seeds and membrane of the jalapenos are where the most "heat" lives.  Remove these before mincing if taming the heat is important to you.  Also, wear gloves when handling spicy chiles, and avoid touching anywhere near your eyes if there has been any chile contact with your hands.
Fish sauce is a key ingredient for Southeast Asian cooking.  If you enjoy Thai, Vietnamese and similar cuisines, I highly recommend stocking fish sauce along with soy sauce.  Red Boat, the brand I use, has a 250-ml bottle that's a good introduction to their product.  A little goes a long way.

Thai-Style Stir-Fried Beef and Vegetables
ingredients
1 pound ground beef (substitute any ground meat or crumbled, firm tofu, as you prefer)
1 pound zucchini and/or eggplant, diced into 1/ 3" cubes (about 2-3 medium zucchini and/or Asian eggplant); about 3+ cups
1 cup fresh basil leaves, Thai basil if you have them; plus extra leaves for finishing
1/ 2 cup onion, diced
1 tablespoon garlic, minced; about 3 – 4 large cloves
1 tablespoon fresh ginger, minced
1 jalapeno, serrano or Thai chile, minced; or to taste
1 tablespoon fish sauce, or to taste (I use Red Boat brand)
1 – 2 teaspoons soy sauce, or to taste
1 teaspoon freshly ground black pepper, or to taste
Fresh lime wedges
2 tablespoons neutral vegetable oil for stir-frying
Whole lettuce leaves for serving, such as Bibb or similar pliable leaf variety
Instructions
Heat a large, heavy skillet (or wok) over medium-high heat. Add 1 tablespoon of oil and let heat until it begins to "shimmer".
Add the onion, garlic, ginger, and chile (the "aromatics"); and stir-fry for just about one minute. Add the ground beef in several pieces and begin breaking it up in the pan with a spatula or wooden spoon.  The goal is to have crumbles of cooked beef that's well-incorporated with the aromatics.  Remove the cooked beef and aromatics to a plate and set aside.
Add the second 1 tablespoon of oil to the pan and let it heat up over medium-high heat. Add the zucchini and/or eggplant, stir-frying occasionally until lightly browned and nearly cooked through, about 5 – 8 minutes.
Add the cooked beef mixture back into the pan; then add the fish sauce, soy sauce, and black pepper. Stir-fry to mix well, then lastly add the fresh basil leaves and give it a final stir to incorporate them.
Remove from heat and serve in lettuce leaves or with steamed rice. Garnish with fresh basil leaves and include lime wedges for a fresh spritz of acidity to liven things up.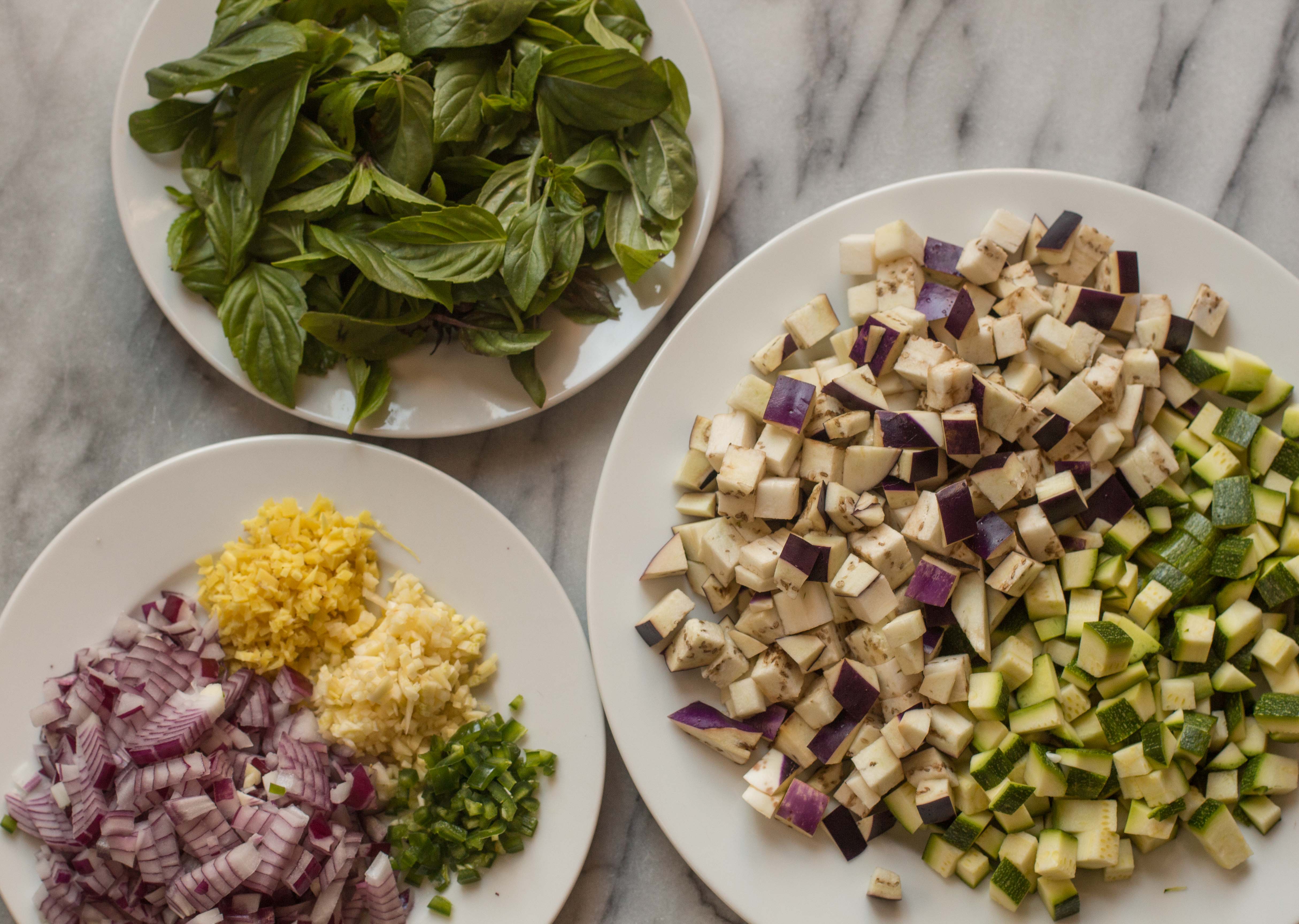 Please follow and like us: