Deep in the midst of winter we're enjoying plenty of hearty fare – stews and soups, braises and beans.  But I also appreciate a lighter side dish, with a salad boasting the flavors of winter.  And, dare I say, a nice change up from roasted vegetables.
A version of this salad has been making it onto our dining table for the past several weeks, and to high praise no matter how I vary the components. I have made versions using only chicories, only lacinato kale (aka Tuscan or dinosaur kale), a mix of both with some Little Gem lettuces.  The original recipe called for radishes and celery, which is also delicious.
You might also switch out the walnuts for hazelnuts (aka filberts) or pistachios for a new twist.  And by all means, omit the step of toasting if you prefer to consume your nutmeats in their raw state.  This is a salad, so substitute freely!
Fortunately for us in the Bay Area, we are blessed with numerous farmers markets, with farmers bringing in a wide variety of unique salad greens, including chicories, even in the dark of winter months.  This makes for interesting tastes and textures, and a distinct difference from the salads of summer.
If you are a fan of chicories, you might also want to try this salad of chicory with Asian pear, and a ginger-honey vinaigrette.
Safety tip:
I find it easy enough to slice the fresh, raw beets thinly with my all-purpose chef's knife.  To better stabilize the beet whilst slicing, I leave about 1-inch of the stalk above the beet root to use as a handle.  This allows for firm, steady control without much movement from the beet as you slice as thinly as possible.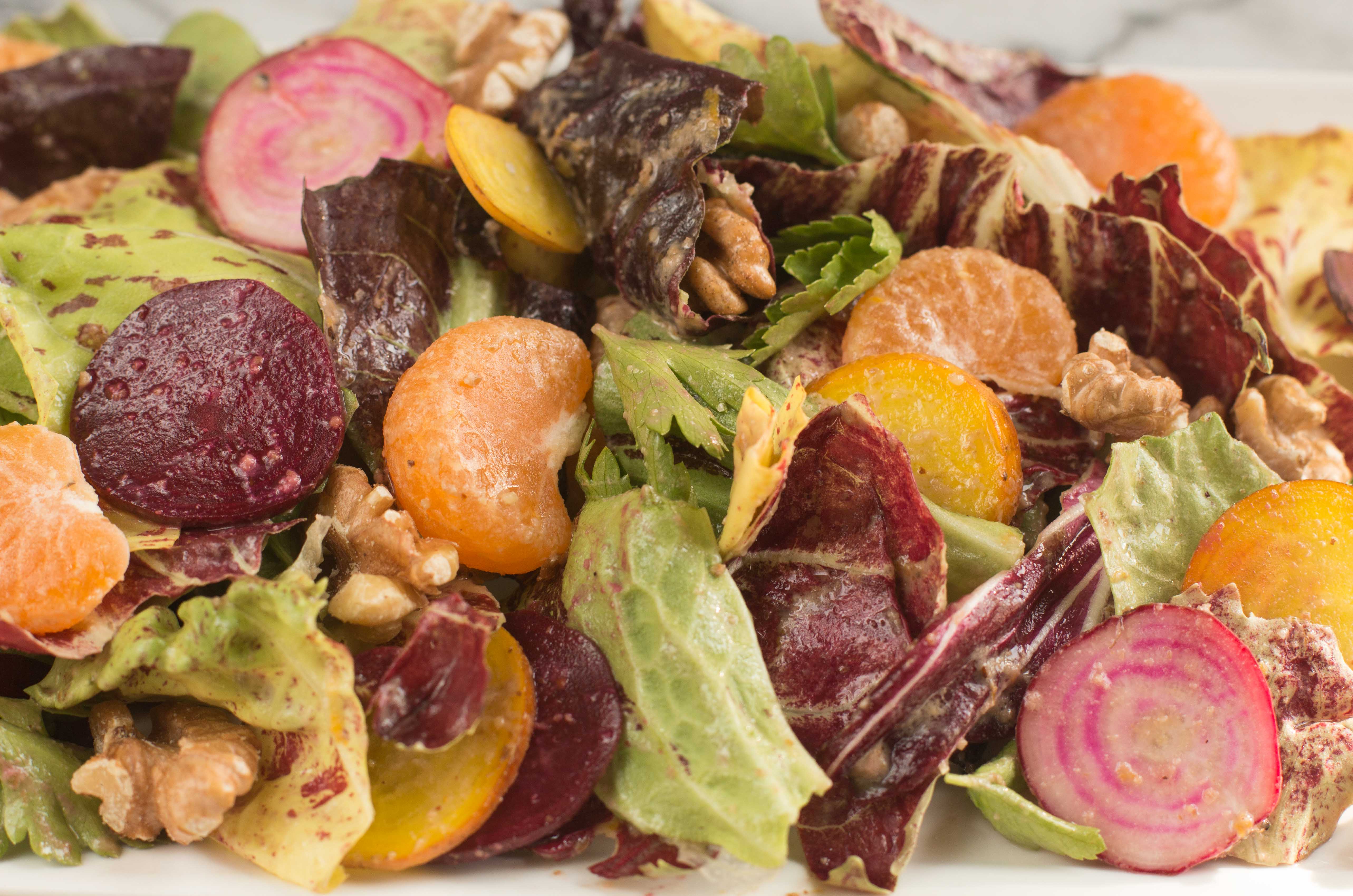 Winter Salad with Walnut Dressing
Adapted from Bon Appétit, December 2015
Ingredients
1 cup walnut pieces
2 oil packed anchovy fillets, drained, finely chopped
1 teaspoon Dijon-style mustard
1 teaspoon honey
1 garlic clove, finely chopped
1/ 4 cup extra-virgin olive oil
2 tablespoons sherry or white wine vinegar
1 teaspoon fresh lemon zest, finely grated
2 tablespoons fresh lemon juice
Sea salt and freshly ground black pepper, to taste
2 heads of winter greens such as chicories, torn into bite-sized pieces; or 1 bunch of kale or young collard greens; thinly sliced
1/ 2 cup flat-leaf parsley leaves
2 medium beets, about 2" diameter, thinly sliced on a mandoline or coarsely grated on a box grater
3 Mandarin oranges, or similar small seedless citrus; peeled and sectioned
Instructions
Preheat oven to 350 °F.  Toast walnuts on a rimmed baking sheet, tossing occasionally until they begin to barely darken, about 8 – 10 minutes.  Take care to not over brown, it happens quickly! Set aside to cool.  Divide evenly, setting aside 1/ 2 cup walnut pieces to toss into the salad.
Pulse anchovies, garlic, olive oil and remaining 1/ 2 cup walnut pieces in a food processor to a coarse puree.  Stir in mustard, honey, vinegar, lemon zest, and lemon juice; season with salt and pepper.
Toss greens, parsley, and beets in a large bowl with one-third to one-half of the dressing.  Add walnuts and Mandarin orange sections and toss again.  Drizzle additional dressing over the top if needed.
Store any remaining dressing in the refrigerator, for up to a few days.
Please follow and like us: