Most of you know that my Piedmont Pantry newspaper column and blog fall into "hobby" status.  They are an opportunity to combine love of cooking, eating, writing and photography; and share it with others with similar interests.  It's not always easy to decide what to write about, especially when my "day job" gets busy and spills into night and weekend work too.
     Then I remember a conversation with my friends Judy and Jack.  Jack does a lot of the cooking in their home; and he once said he'd like to see recipes for what I might cook on a typical weeknight:   Easy.  Fast.  Tasty.  This recipe is it.  I prepare a version of protein-and-vegetable stir fry several times each week.  I mix and match meats and vegetables.  And I change up the flavor profile to keep things interesting, channeling different cuisines or different herb combinations if I've got a bounty in my garden.
     This weeknight dish calls for about 20 minutes of active cooking time and about 10 to 15 minutes of knife-work.  It's a one-pan wonder, so clean up is fast too.  Once you are comfortable with the process and technique, the recipe begs for adaptation at every turn.
A few advance tips:
I prefer chicken thighs to breast meat for more flavor and moisture. But use what you like.
The idea is to slice the chicken and vegetables so they will be of similar size for even cooking and ease of eating.
Do not over-crowd the pan during the browning steps for both the vegetables and the chicken. If you have more than fills one even layer in the pan of either, brown them in multiple batches.  The method for stir fry dishes is fast and hot cooking for crunchy vegetables and tender, succulent meat.
To make it even easier, substitute the individual spices in the recipe with about 1 tablespoon of your favorite spice blend! Prepared curry powder, Vadouvan (French-style curry), Ras el Hanout, well you get the idea. My pals Nick and Evelyn at Local Spicery have many options you might want to consider.  You can find them here, at their shop in Tiburon, and several Bay Area farmers markets.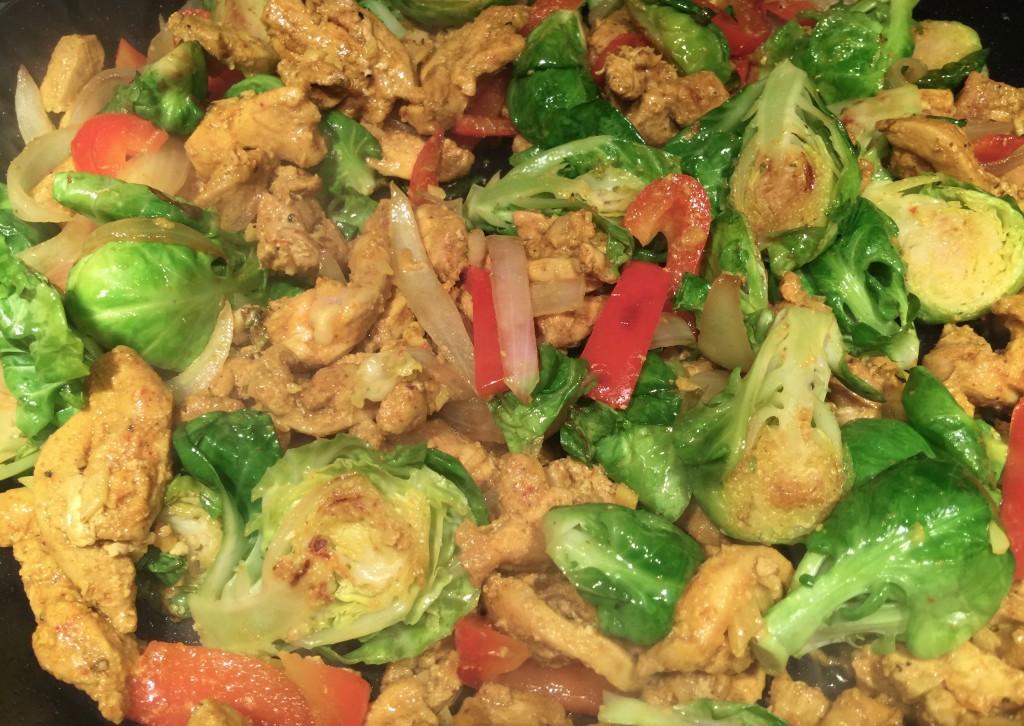 Chicken and Brussels Sprouts Stirfry
Serves 4
For the chicken and its marinade:
1-1/2 pounds boneless chicken, sliced in 2-inch by 1/ 4-inch strips
1 tablespoon lemon juice
1 tablespoon olive oil
1-inch knob of fresh ginger, finely minced (about 1 generous teaspoon)
2 cloves of garlic, finely minced (about 1 generous teaspoon)
2 teaspoon ground turmeric
1 teaspoon ground cumin
1/ 2 teaspoon ground coriander
1/ 2 teaspoon chile, to taste (chile flakes; or ground ancho, Aleppo style, d'Esplette, etc.)
1/ 2 teaspoon black pepper, freshly ground
1/ 4 teaspoon ground white pepper
1/ 4 teaspoon salt
Combine all the marinade ingredients in a medium bowl.  Stir in the sliced chicken, making sure the marinade is evenly distributed and the chicken pieces are well coated.  Set aside in the refrigerator at least 20 minutes, up to overnight.  Meanwhile prepare the vegetables.
Vegetables
1 pound Brussels sprouts, sliced in half lengthwise if very large
1 red bell pepper, sliced in 2-inch by 1/ 4-inch strips
1/ 2 medium yellow onion, sliced into 1/ 4-inch wide wedges
2 teaspoons oil for the pan, suggest coconut, peanut or ghee (an oil designed for high heat)
Salt and pepper to taste
Green onion or cilantro to garnish/finish the dish
Stir Frying Instructions:
Use a heavy, 12-inch frying pan.  Heat the pan over medium-high heat for about one minute.  Add 1 teaspoon of oil and distribute it evenly using a spatula.  Add the Brussels sprouts in a single-layer, cut-side facing down.  Sprinkle about one tablespoon of water over the Brussels sprouts to create a bit of steam.  Sprinkle with salt and black pepper to taste.  Allow to brown slightly, then turn the sprouts over to cook on both sides.  Take care to just barely cook through; this should take only 4-5 minutes.  Remove the sprouts to a plate and set aside.
With the heat still set at medium-high, add the sliced red pepper and onion and spread into one even layer.  (Add the second teaspoon of oil if needed, but there should be enough in the pan so they will not stick.)  Allow the pepper and onion to brown at the edges at least on one side, resist the urge to stir them about.  When the onions and pepper have a bit of color to them, but are still barely cooked through, remove them from the pan to the plate along with the Brussels sprouts.
Return the pan to the medium-high heat and wait about one minute to assure the pan is hot.   Stir the marinated chicken a bit in the bowl to loosen and separate the pieces.  Add the marinated chicken all at once to the hot pan and begin spreading in into one layer as quickly as possible.  Once the chicken is in one layer, leave it alone to brown; about 5 minutes.  Flip the pieces of chicken over and spread them back into a single layer.  Cook another 5 minutes until the chicken is nearly done.  Add the vegetables back into the pan along with the chicken and stir to combine everything.  Cook another 3 or 4 minutes to ensure the chicken is thoroughly cooked and the vegetables are hot.  The Brussels sprouts and red pepper should ideally retain a bit of crunch when bitten.
Remove to a serving dish.  Sprinkle liberally with sliced green onions and/or chopped cilantro.
Please follow and like us: