A walk around my neighborhood tells a tale of bumper crop lemons.  I am only seeing front yards, and they are laden with lemons!  This quick loaf cake recipe uses only the lemon rind, leaving you with options for using the juice.  I suggest making lemonade, to serve along with this cake, and setting out a lovely Mother's Day brunch table.
     I hope you find the combination of lemon and rosemary in a cake appealing.  It may be a new cake combo to you, and if so, you may well be delighted with their subtle pairing here.  I use a mild, "buttery" olive oil for another intriguing layer of flavor.  As you might imagine, the resulting cake is fragrant, light, moist, and tender.
     Oil-based cakes stay moist for days.  And left overnight, the lemon and rosemary become more flavorful.  I mention this to say this is good for making in advance.  Once it's served, it'll go fast in any case.  It certainly does at my house!
     Speaking of Mother's Day, coming up this weekend, this recipe is easily made by novice bakers.  A bit of measuring, mincing and whisking and you've got a top-notch gift for Mom, or Grandma, or Auntie, or a cherished friend.
A few advance tips:
Pre-measure the 3/4 cup of yogurt and bring it to room temperature before you begin mixing the ingredients. The eggs should also be at room temperature.
Use a quality olive oil that boasts a "buttery" taste. Save a "grassy" or "peppery" olive oil for another time.
This cake is perfectly delicious without the rosemary, so feel free to take baby steps with adding it. But I promise, if you enjoy rosemary, it does bring a taste sensation to desserts.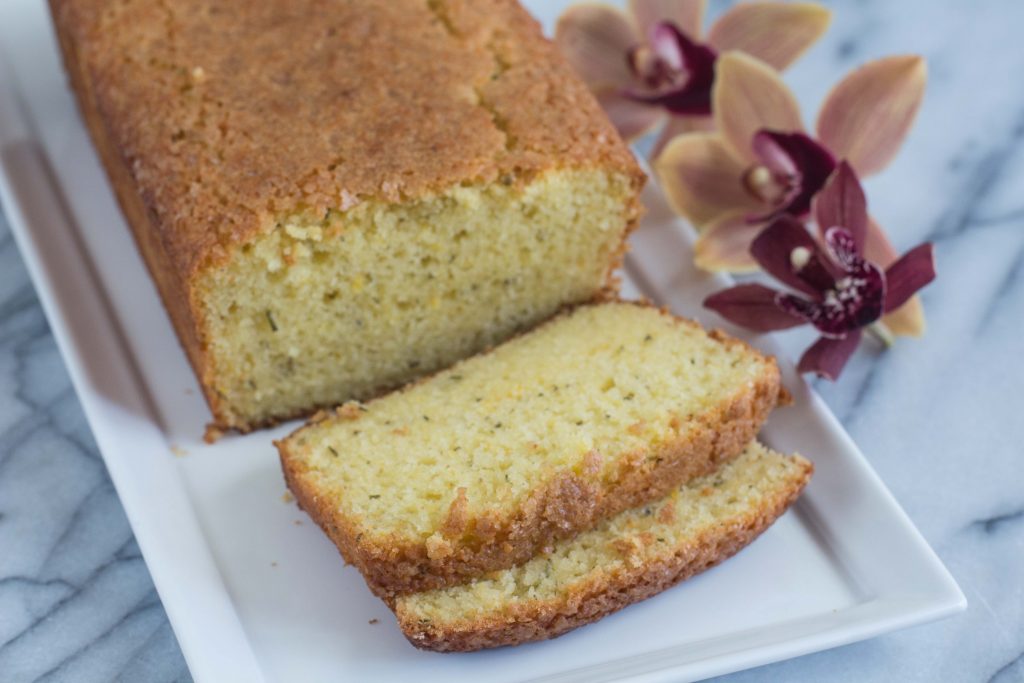 French Yogurt Cake with Lemon and Rosemary
Adapted from Andrew Knowlton/Bon Appétit
Ingredients
1-1/ 2 cups all-purpose flour
2 teaspoons baking powder
1/ 2 teaspoon sea salt
3/ 4 cup granulated sugar
2 tablespoons finely grated lemon zest
1 – 2 tablespoons finely minced fresh rosemary, to taste
3/ 4 cup whole milk, plain yogurt
1/ 2 cup olive oil
2 large eggs
1/ 2 teaspoon vanilla extract, optional (include if using a lesser amount of rosemary)
1 tablespoon coarse sugar for the topping, "Turbinado" raw cane sugar is a good choice
Preparation
Lightly coat an 8-1/ 2" x 4-1/ 4" loaf pan with olive oil. Line the bottom of the pan with parchment paper.  Dust with flour, tapping out any excess.  Set aside.
Position an oven rack to the lower third position. Preheat oven to 350*F.
Whisk 1-1/ 2 cups flour, 2 teaspoons baking powder, and 1/ 2 teaspoon salt in a medium bowl. Using your fingers, rub 3/ 4 cup sugar with 2 tablespoons finely grated lemon zest in a large bowl until sugar is moist. Stir in the minced rosemary.
Add 3/ 4 cup whole milk yogurt, 1/ 2 cup olive oil, 2 large eggs, and 1/ 2 teaspoon vanilla extract; whisk to blend.
Fold in dry ingredients just to blend. Pour batter into prepared pan; smooth the top. Sprinkle the top evenly with the course sugar.
Bake until top of cake is golden brown and a tester inserted into the center comes out clean, about 50-55 minutes.
Let cake cool in pan on a wire rack for 15 minutes. Invert onto rack; let cool completely before slicing.
Please follow and like us: