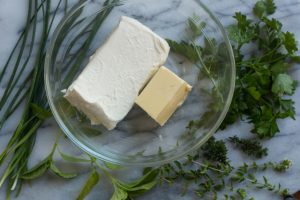 Is it just me, or did September fly by?  I must have been ecstatic last month, ("Time flies when you're having fun…").  So it's with a bit of a rush that I prepare this month's Piedmont Pantry column for The Piedmont Post, because I blinked and my deadline is nigh.
As it turns out, this recipe is a nice metaphor for making the best when time is of the essence.  Surely you may find yourself in a similar position – the need to pull something together quickly to serve, with ingredients you may already have on hand; or are easy to gather.
High impact with minimal effort – there's much to love about this easy, homemade cheese spread.  It's always a crowd pleaser, slathered on sliced baguette, crackers or a variety of vegetables.  Best of all, it takes only a few minutes of chopping and mixing from start to finish.
The instructions say to refrigerate it for a couple of hours before serving to allow for the flavors to fully develop.  Truth be told, it's perfectly delicious as soon as it's made – as you will notice when cleaning up the bowl.
Cream cheese is a refrigerator staple in many homes, including ours.  Here we're fond of cream cheese and smoked salmon on a bagel or toast.  An unopened package of cream cheese will last several months in the 'fridge.  So why not keep it on hand?
I have a small herb garden, in pots, in our back yard.  It's easy-peasy for me to head out and snip away as needed.  Bits and pieces from your garden or refrigerator are fine here.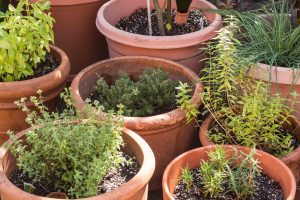 This recipe is flexible.  Mix and match the herbs to suit your taste or availability at hand.  Try using other soft, spreadable cheeses such as fromage blanc, chèvre, or ricotta.
And it's scalable.  Make only a fraction of the recipe to use up a bit of cream cheese you have, or multiply it for a crowd.  Soon you will be whipping up your own versions on instinct, with no recipe required.
Bonus:  This cheese spread is also delicious on pasta.  Boil pasta to desired doneness.  Drain, reserving at least 1/ 2 cup of the boiling liquid.  Add cheese spread to taste and mix until evenly distributed.  A few splashes of the reserved pasta water will help loosen up the sauce and make for a luscious coating on the pasta.  Serve with a generous scattering of grated Parmesan cheese and flourish of more fresh herbs.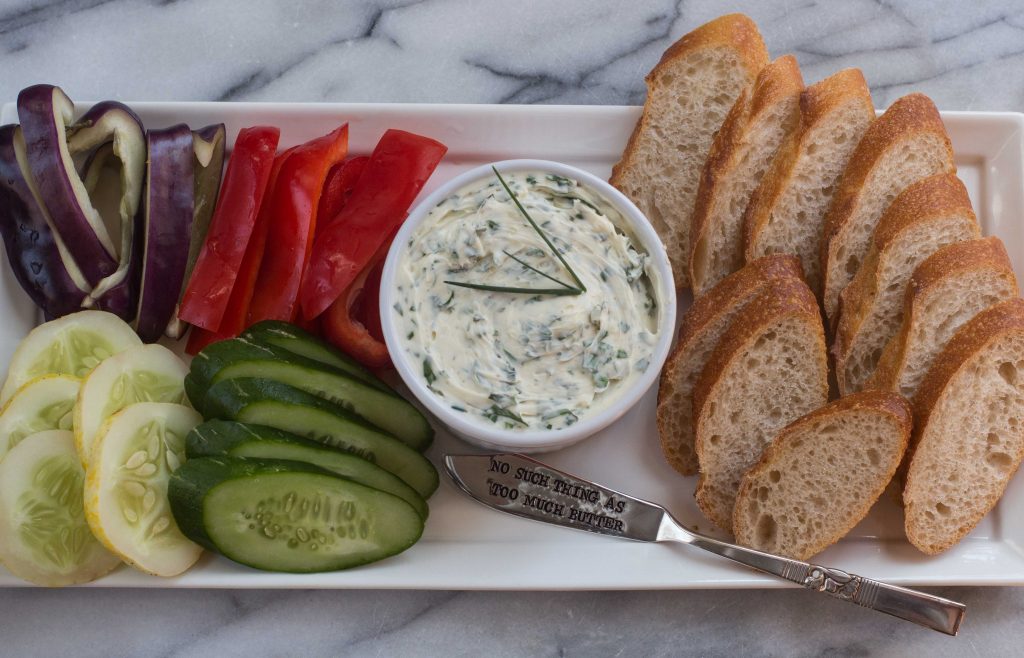 Fresh Herbs & Garlic Cream Cheese Spread
Makes about 1 cup
INGREDIENTS
8 ounces cream cheese, softened to room temperature
4 tablespoons unsalted butter, softened to room temperature
1 – 2 garlic cloves, finely minced
2 tablespoons flat-leaf parsley leaves, finely chopped
1 tablespoon fresh chives, finely chopped
1 tablespoon fresh herbs, finely chopped (Basil, marjoram, and thyme; alone or in combination, are all delicious.)
Salt and freshly ground black pepper to taste, start with about 1/ 4 teaspoon each
INSTRUCTIONS
Combine the cream cheese and butter in a medium mixing bowl and blend well until they are smooth. This can be done by hand, or with an electric mixer or food processor.  Fold in the garlic and herbs.  Taste and season with salt and pepper to your preference.
Transfer to serving bowl or ramekins, cover and chill in the refrigerator for several hours; up to 2 days.
Serve with sliced breads, crackers, sliced vegetables – whatever you like. It will soften up at room temperature, making it not only spreadable, but "dip-able" with a sturdy celery or carrot stick.
Please follow and like us: