My publisher made a request for an orange loaf cake – he has a fond food memory of a cake his mother baked; redolent with orange in every bite, including on top of the cake.  So off to my collection of classic cookbooks I went, Fannie Farmer, James Beard, Joy of Cooking, etc; in search of a recipe that matched his recollection.  An online search yielded Melissa Clark's Orange Marmalade Cake, that turned out a very orange-y, moist cake.  It's always a risk to recreate a childhood food memory, lest it disappoint, so I diverged a bit with this lemon version of the cake.  It is darn tasty in its own right, and no one has refused a proffered slice to date.
These special cakes are perfect to serve when guests stop by, or for gift-giving that will surely please.  Their bright lemon-y-ness adds a fresh note to pair nicely with a "cuppa" of your choosing.
When I shared this cake with neighbors, I was asked if I had made the marmalade from my garden's lemons.  I had not, but appreciated the thought for a future project!  You will want to use a marmalade that is well made, meaning chockfull of lemon rind for this cake.  The results will suffer if you use a marmalade that is more pectin/jelly than rind.
I happened to have a jar of divine Meyer lemon marmalade from the Clif Family Kitchen in Napa Valley, procured during a recent visit to their St. Helena winery.  They produce mouth-watering preserves from fruits grown on their farm, and recently received recognition when their preserves were listed on "Oprah's Favorite Things 2017" list.
If you are in the St. Helena area, I highly recommend a visit to Clif Family Winery.  I had a wonderful time there with friends tasting wines and having lunch from their Bruschetteria food truck.  Their retail shop carries their now famous preserves, along with other custom offerings.  I came away with preserves, olive oil, candied nuts, spices and, oh yes — wine.
If you cannot find lemon marmalade, using orange marmalade as the cake is originally conceived, is sure to please.  There is also a video of Melissa Clark preparing her cake, a bonus for those appreciating a refresher on techniques and tips.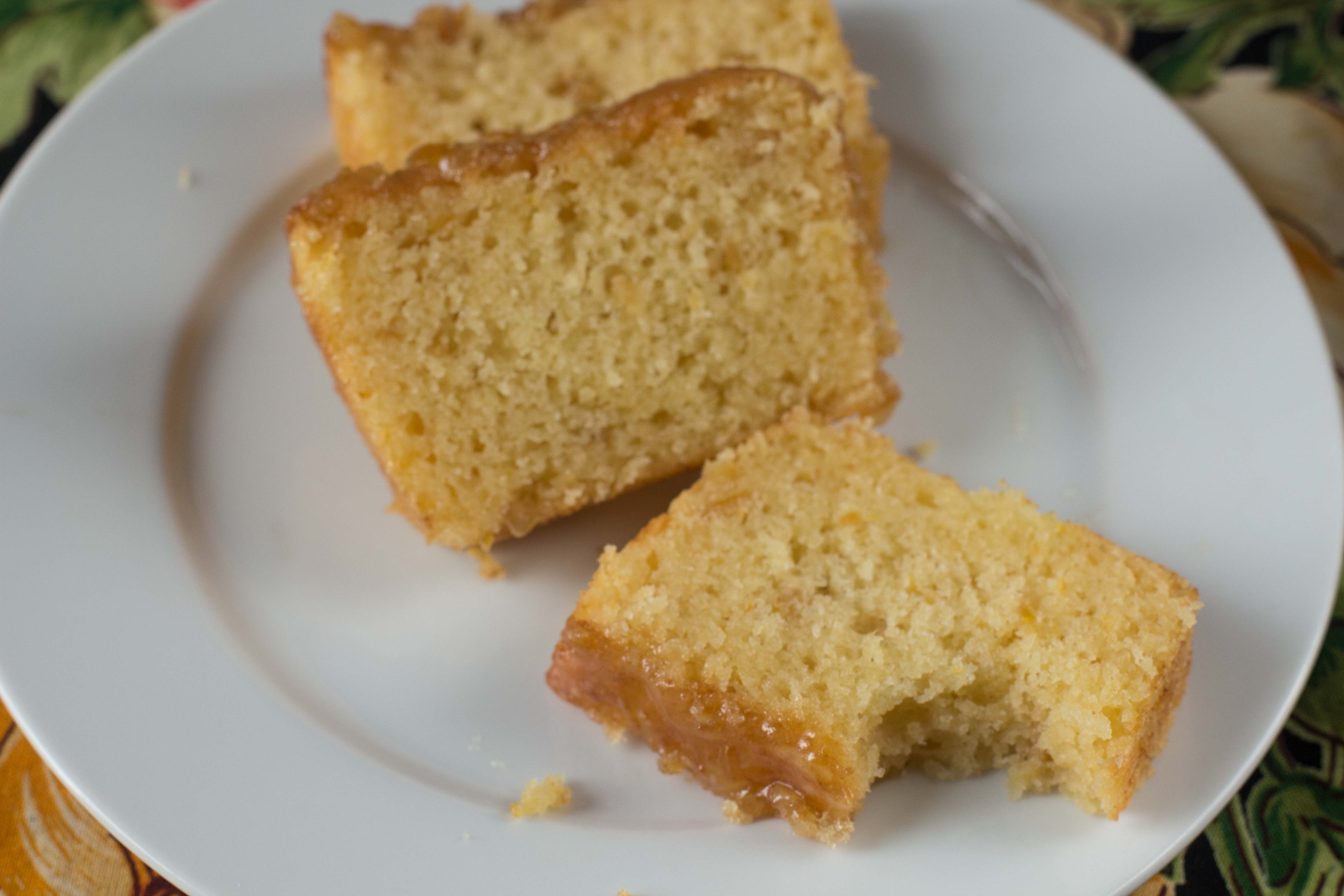 Lemon Marmalade Cake
Adapted from Melissa Clark's Orange Marmalade Cake
Ingredients
2/3 cup lemon marmalade, divided
12 tablespoons unsalted butter, softened; plus 1/ 2 tablespoon for the glaze, and more for greasing the pan(s)
1/ 2 cup granulated sugar
1 tablespoon grated lemon zest
3 large eggs, room temperature
2 tablespoons freshly squeezed lemon juice
1-1/ 2 cups all-purpose flour
1-1/ 2 teaspoons baking powder
1/ 2 teaspoon sea salt
1/ 8 cup confectioners' (powdered) sugar
Instructions
Position an oven rack into the center of the oven. Preheat the oven to 350  Butter a 9 x 5-inch loaf pan, or use three mini loaf pans, approximately 3 x 6-inch size. Coarsely chop any extra-large pieces of peel in the marmalade.
In a medium bowl, whisk together flour, baking powder and salt. Set aside.
In a large mixing bowl, beat together softened butter, sugar and lemon zest until light and fluffy; about 5 minutes. Add eggs, one at a time, beating after each until well incorporated.  Beat in 1/ 3 cup marmalade and the lemon juice.  Using a spatula, gently fold in the dry ingredients into the butter-sugar-egg mixture by hand, until no traces of flour show.
Scrape batter into the prepared pan(s). Bake until the surface of the cake is golden brown and a toothpick inserted in the center comes out clean; about 35 minutes for mini-pans or 50-55 minutes for one large pan.
Remove from oven and transfer pan(s) to a wire rack. Cool 10 minutes, turn cake out of pans and place on a rack right-side up.  Place a rimmed baking sheet under the rack to catch any dripping glaze.
Heat remaining 1/ 3 cup marmalade in a small pan over low heat until melted; whisk in confectioners' sugar and 1/ 2 tablespoon of butter until smooth. Slather warm glaze over the top of the cake(s), allowing some to drizzle down the sides.  Cool completely before serving.
Note:  As with many cakes, this one will have the tenderest crumb if eaten on the day it is baked.  Next day the crumb is firmer, and the lemon-y-ness is both richer and mellower.  It's all good!
Please follow and like us: