THIS dish is the star every time we sit down to our spring time, corned beef dinner.  Yes, we all appreciate the corned beef, but these potatoes, aka colcannon, are what my family love.  Homey comfort food in the spotlight.
     My version has plenty of flavor and we like the combination of both cabbage and kale.  The extra step of browning the top in a medium-high heat oven creates crispy bits that are everyone's favorite.  If you bake it in a square pan, be prepared for the corners to be in high demand!
     I hope you will make this your own, preparing it to suit your taste buds.  It's pretty goof-proof, so there's leeway for additions and substitutions.  Use any proportion of cabbage and kale.  A vegan option using olive oil and vegetable stock will have plenty of punch; and it should also adapt nicely to mashed cauliflower in place of potatoes, if that's your thing.
     And, by all means, prepare it year-round too.  It's a wonderful accompaniment for a variety of meals.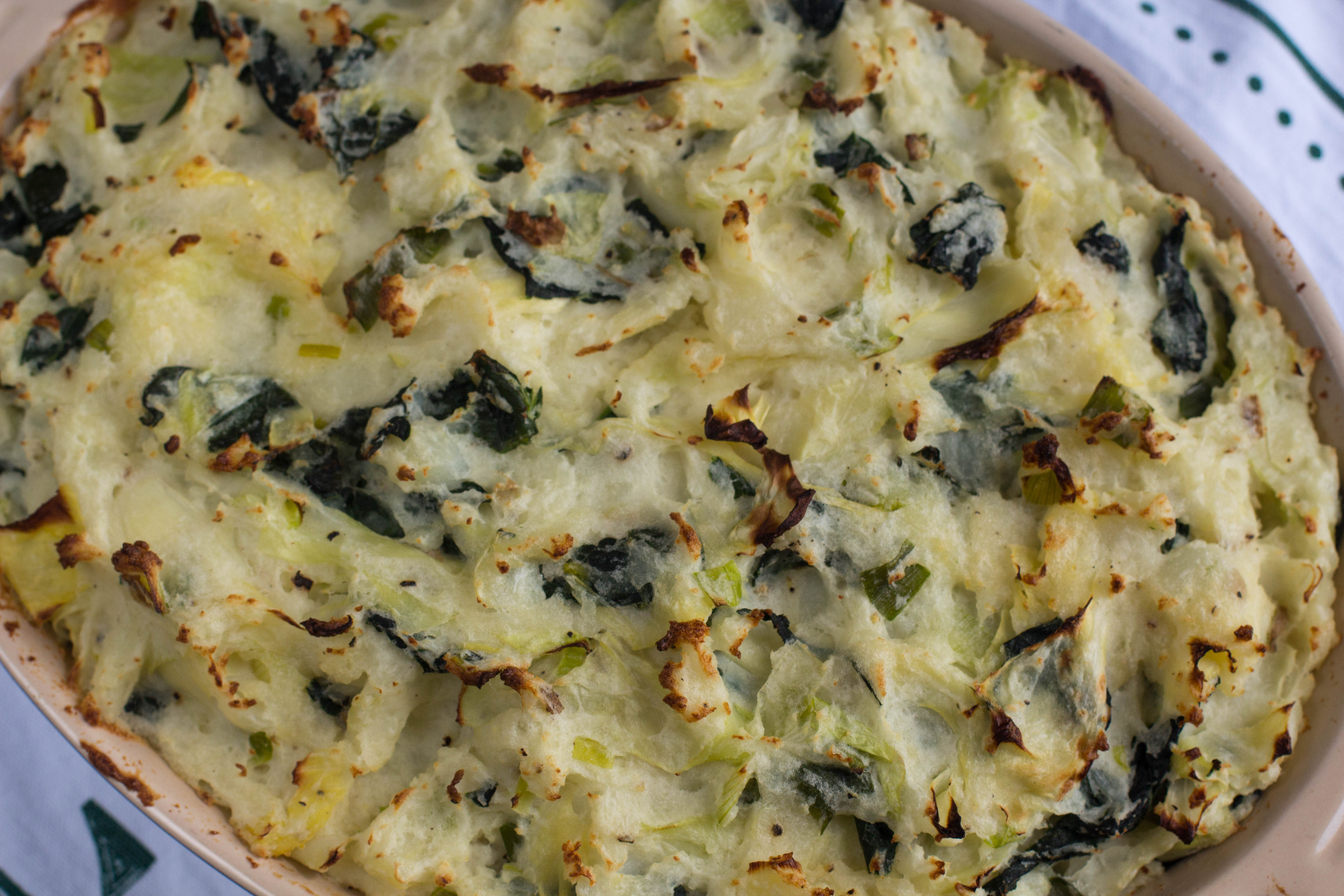 Potato Leek and Greens Bake
INGREDIENTS
2-1/ 2 pounds russet potatoes, about 6-7 medium
1/ 2 medium head of green cabbage, yielding about 1-1/2 cups steamed
1/ 2 bunch kale, yielding about 1-1/ 2 cups steamed
1 cup leeks, white and pale green parts only; halved lengthwise then sliced crosswise in 1/ 4-inch pieces
1/ 2 cup half-and-half (whole milk is OK), plus additional if needed
4 tablespoons unsalted butter, plus 1 tablespoon
Salt and pepper to taste
INSTRUCTIONS
Cut the cabbage into two wedges through the core. Cut away the core, then cut each wedge crosswise into 1/ 2-inch slices.
Remove the tough center stem from the kale leaves. If the leaves are very wide, cut into about 2-inch widths; then cut into 1/ 2 –inch slices.
Steam or sauté the cabbage and kale until just tender. Set aside.
In a small saucepan, melt 4 tablespoons of butter. Add the leeks and cook until softened, stirring frequently to ensure even cooking.  Add 1/ 2 cup of half-half, remove from heat and set aside.
Peel the potatoes and cut into 2-inch chunks. Place in a pot large enough to cover the potatoes with water, with at least 1-inch of room left to the top of the pot to avoid the water boiling over.  Boil with medium heat until tender enough to pierce through with a fork using only slight pressure, about 10 – 15 minutes.  Drain the potatoes and coarsely mash, with a potato masher.  It is preferred if bits remain.
Transfer the mashed potatoes into a large mixing bowl. Add the leek-half-half mixture and stir until incorporated.  Stir in the cooked cabbage and kale, making sure to achieve even distribution throughout the potatoes.  The result should be the consistency of chunky mashed potatoes.  Add additional milk, sparingly, if needed to create the consistency you prefer.  Add salt and pepper to taste.
Transfer this entire mixture to a shallow 2-quart baking dish that has been well buttered. Dot with the 1 tablespoon of butter.  Bake in a preheated 400*F oven, set at "Convection" for about 10-15 minutes to brown the top as desired.
Notes:  IF you happen to have leftovers, my best tip for reheating is to form the potatoes into about 4-inch patties and cook in a lightly buttered skillet until heated through and a bit of brown-crispiness is achieved.  These are so good you may find yourself doubling the recipe just for the leftovers!
A bonus to this recipe — Save the potato peels for making these crisps.
Please follow and like us: