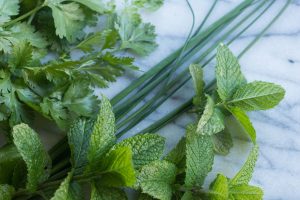 The gift of a huge bag of apples, from our neighbors' back yard tree, sent me straight to searching for new ways to use them whilst they remain at their peak.  Throughout the countless desserts I came across, this little salad caught my eye and stayed with me as I recently paid a visit to my favorite spice shop and returned with this curry blend.
     "Curry" powder is a blend of spices, typically from South Asia; but can be found in North Africa and the Mediterranean.  Primary ingredients include turmeric, cumin, coriander, ginger, fenugreek, black and/or white pepper, and chiles for heat.  Blends are often the pride of the spicerer, and the varieties are many.  The one I use for this recipe is lighter and fruity due to cardamom's presence.
     If you're curious about which are best suited for your taste buds, I encourage you to visit a local spice shop to smell and taste them.  If you are unfortunate to be located far from any, a trip to the bulk aisle of a well-stocked market may provide an opportunity to at least sniff out a few.
     In addition to my neighbor's backyard apples, it turns out the herbs and lemons in the salad are from my own backyard.  I'd wager there are others who are able to pull this salad together after foraging in their gardens – or a welcoming neighbor's.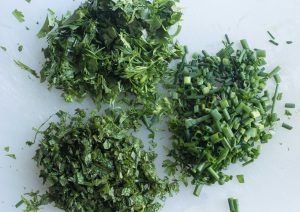 There's plenty of summer left in front of us to enjoy this bright, light salad along with your favorite BBQ or picnic.
Advance notes for substitutions to make this your own:
     Substitute the fresh cilantro with fresh flat-leaf parsley or use more mint and chives. (There's interesting science behind why people find fresh cilantro "soapy" tasting – it has to do with the genetics of one's olfactory receptors.)
     Substitute the apples with firm-ripe nectarines, plums, or apricots.

Quinoa and Apple Salad with Curry Dressing
Adapted from Martha Stewart
Makes About 5 – 6 cups
INGREDIENTS
1/ 4 cup whole almonds
1 cup white quinoa
1 small bay leaf
1 teaspoon honey
1 tablespoon shallot, finely chopped
2 teaspoons curry powder, or to taste
1/ 2 teaspoon sea salt
3 tablespoons fresh lemon juice
1/ 2 teaspoon freshly ground black pepper, or to taste
2 tablespoons extra-virgin olive oil
1 cup fresh apple, cut into 1/ 8-inch thick wedges
1/ 4 cup chives, finely chopped
1/ 4 cup loosely packed fresh mint, coarsely chopped
1/ 4 cup loosely pack fresh cilantro, coarsely chopped
INSTRUCTIONS
In a small frying pan or shallow saucepan, lightly toast almonds over medium-high heat on the stovetop until they become fragrant; about 7 – 10 minutes. Stir the almonds frequently.  Do not walk away from them as they can go from lightly toasted to burnt quickly.  Chop into coarse bits.
Rinse quinoa thoroughly in a fine sieve; drain. In a medium saucepan, bring 2 cups of water to a boil. Add quinoa and bay leaf; return to a boil.  Stir the quinoa, then cover and reduce the heat to lowest setting.  Simmer until quinoa is tender and has absorbed all the water, about 15 – 20 minutes.  Remove the bay leaf, then fluff the quinoa with a fork, then let cool slightly.
In a large bowl, whisk together the honey, shallots, curry powder, salt, pepper and lemon juice. Whisking constantly, pour in the olive oil in a slow, steady stream; whisk until dressing is emulsified.
Set aside a few slices of apples, chopped almonds and herbs for garnishing upon serving. Add the warm quinoa, apple and chopped herbs; folding gently until all ingredients are well combined.  Fold in the chopped almonds.
Serve immediately or refrigerate until serving. If refrigerating to serve later, set aside the toasted almonds and fold them in just before serving to preserve their crunch.
Please follow and like us: