It's time to get the grill going!  We've got birthdays and Father's Day cookouts planned at our house – and I'm hoping for a few fog-less evenings so we can enjoy a dinner al fresco.  (Warm nights are not guaranteed here in the Bay Area.  In fact, it's a treat for it to be warm enough to enjoy a back yard dinner!)
     Kebabs are ideal for summer grilling – they cook up quickly, leaving more time to relax and enjoy your meal with family and friends.  Plus they fancy up the plate making meal time more fun and festive.
     This marinade includes several ingredients, mostly spices.  As always, I encourage you to adjust the seasonings to suit your taste buds.  If in a hurry, use about one tablespoon of a prepared spice blend or curry powder for an even quicker fix.  And by all means, switch up the spices for different flavor profiles – the possibilities are limitless.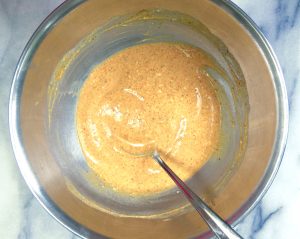 I've included yogurt as the primary vehicle to tenderize the chicken.  You could also use buttermilk.  And if you're dis-inclined toward dairy, substitute with 1/ 2 cup of white wine.  Honestly, it's all good!
     These kebabs will grill up nicely on an indoor grill pan too, or even under the broiler.  The bit of dried chipotle chile brings a subtle hint of smoke along with it's tingly heat.
A few advance tips:
I prefer chicken thigh pieces over breast pieces for their deeper flavor and juicy texture.  They are also more forgiving when cooking them…i.e. less apt to dry out.  Use breast meat if you insist; the kebabs will be tasty, and to your preference.
Cut the chicken into similarly sized pieces for even cooking. A medium-sized chicken thigh should yield about six pieces.
Longer marinating time means more flavor.
Resist adding too many vegetables to a meat-focused kebob. For a kebob-fest meal, you're better off preparing separate skewers of seasoned vegetables and grilling them accordingly, to preferred doneness.
Bonus tip:  Dessert kabobs are a thing too!  Think of grilling skewered chunks of firm ripe peaches, nectarines, strawberries, cantaloupes, etc.  It's a tiny step in a new direction…glaze with a favorite fruit preserve or marmalade that's thinned with a bit of lemon juice, water; and a splash of a fruity brandy or eau de vie.  Oh yeah, we are indeed cooking with gas!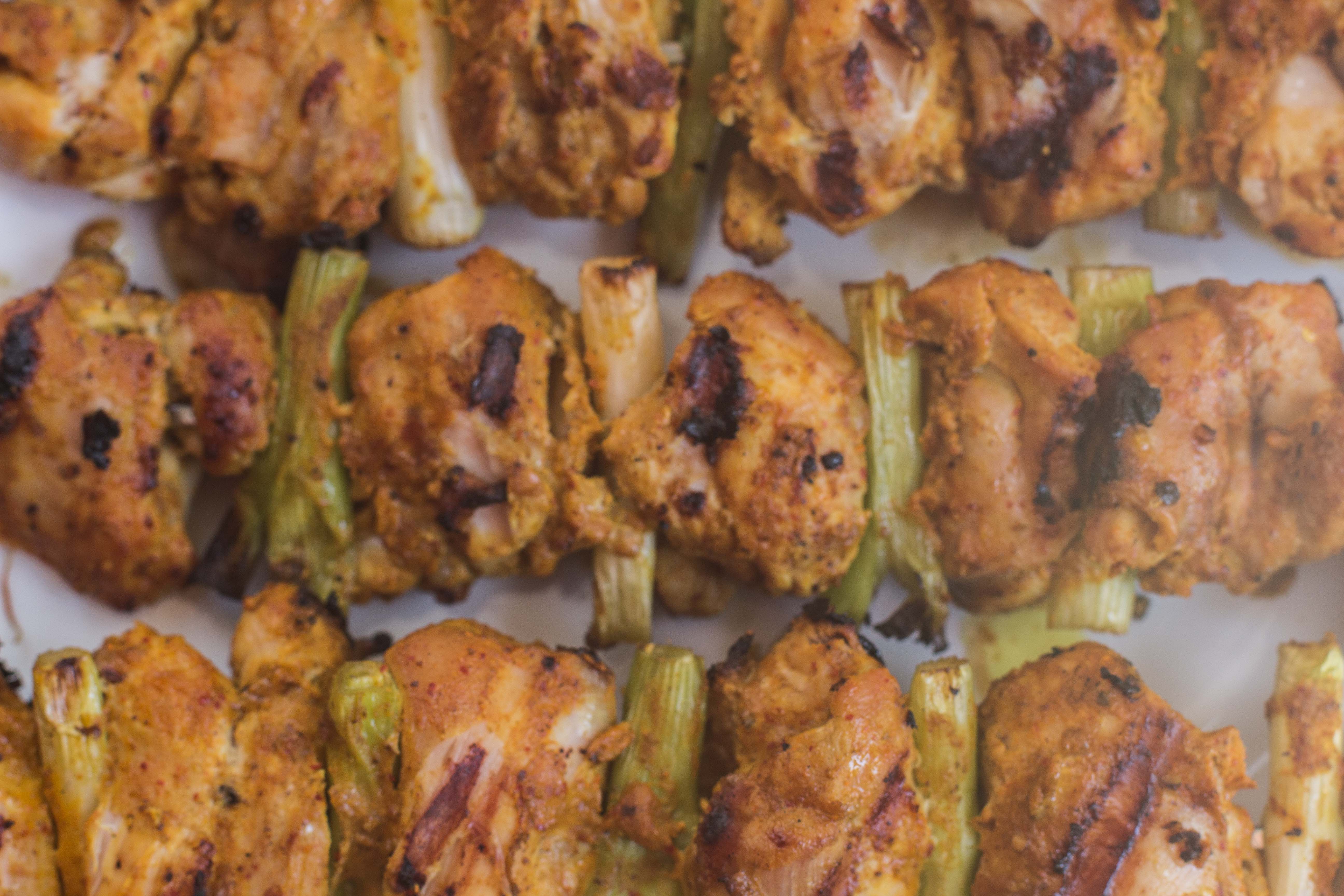 Spicy Chicken Kebabs
Makes  four, 10-inch long kebabs
1-1/ 2 pounds boneless chicken thighs, cut into about 1-1/2-inch cubes
1 bunch green onions, cleaned and cut into 1-1/2-inch lengths
Marinade:
1/ 2 cup whole milk, plain yogurt
2 tablespoons freshly squeezed lemon juice
2 tablespoons olive oil
2 teaspoons ground turmeric
1 teaspoon ground cumin, or to taste
1/ 2 teaspoons each of ground ginger, coriander, salt and freshly ground black pepper; or to taste
1/ 2 – 1 teaspoon ground guajillo chile pepper, to taste
1/ 4 – 1/ 2 teaspoons dried chipotle chile powder, to taste (You can substitute with chipotle in adobo if you have it.)
1/ 4 teaspoon ground cinnamon, to taste
INSTRUCTIONS
Mix the spices into the yogurt, lemon juice, and olive oil in a medium bowl until well blended. Add the chicken pieces and fold through the spicy yogurt mixture until the chicken pieces are coated on all sides.  Cover and set aside in the refrigerator at least one hour, up to overnight.
Whilst the grill is heating up, skewer the chicken and green onion pieces onto a metal or bamboo skewers. If using bamboo skewers, be sure to soak them in water for at least an hour before use.  This helps prevent the exposed ends from burning during the grilling.
Grill over medium heat for about 6 – 7 minutes, then flip over to cook the over side until chicken is cooked through, another 6 – 7 minutes. Cooking times will vary based upon the thickness of the chicken and how tightly the pieces are packed onto the skewer.
Please follow and like us: