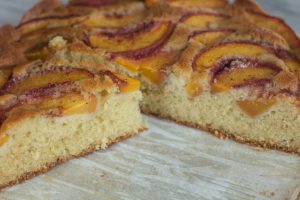 There is a slight Goldilocks' attitude to my preference for a summer time cake featuring fruit.  Not too dense and not to light, but a medium textured, moist cake that seems just right for a satisfying sweet treat during our late summer heat.
If you are a baker, or a fan of simple fruit cakes, you may already be acquainted with Marion Burros' iconic Original Plum Torte.  It is said to be the New York Times' most requested recipe, and indeed, was published every September for seven years back in the 1980's.  Now that's serious lasting power, and apt appreciation for a genius cake.
Ms. Burros also encourages home bakers to experiment with our own adaptations, and this is one of mine.  Over the years my family has enjoyed several variations, but we seem to especially appreciate using peaches and/or nectarines.
This cake, which is pretty forgiving when it comes to making substitutions, is a brilliant showcase for perfectly ripe stone fruits.  The other bonus for making this now – many of these fruits are at seasonal low pricing from your local farmers.
I hope you'll give this cake a whirl.  There are only five, FIVE, actual mixing steps to it; fairly short for an outstanding outcome.
A few advance notes:
Experience shows me that fruit sliced on the thinner, 1/ 3-inch side, yields for a baked cake with most of the fruit showing. If this appearance appeals, then you'll be glad for the tip.  Slightly thicker slices of fruit results in a perfectly delicious cake that shows more cake than fruit on top.  You can always garnish with a bit more fruit, or a dollop of whipped cream.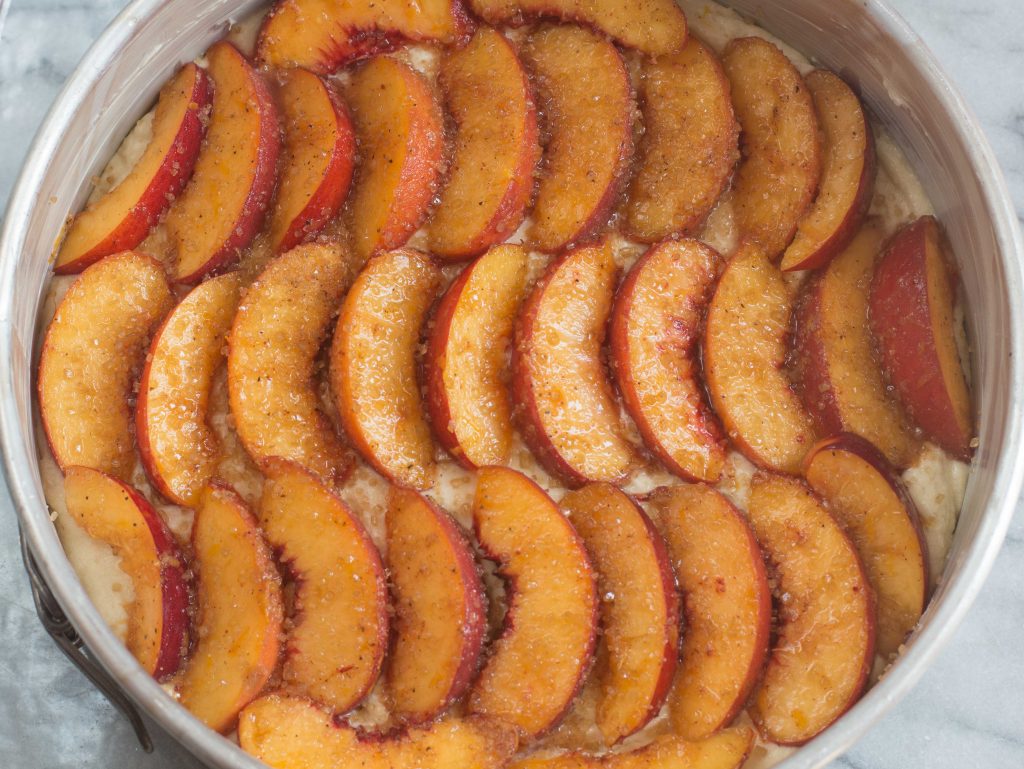 Don't overdo it with overlapping the sliced fruit. The rising cake batter needs somewhere to go.  You don't want to weigh it down so much that you end up with a stodgy cake that couldn't rise for the heft of the fruit topping.
Summer Fruit Cake with Peaches and Nectarines
Inspired by Marion Burros' Plum Torte
Makes one 9" round cake
INGREDIENTS
1-1/ 2 cups all-purpose flour
1 teaspoon baking powder
1/ 2 teaspoon baking soda
1/ 4 teaspoon salt
1/ 2 cup granulated sugar
1/ 2 cup unsalted butter, room temperature
2 eggs, room temperature
1/ 2 cup whole milk yogurt, room temperature (substitute sour cream)
3 medium peaches or nectarines, or large plums
1 tablespoon lemon juice, freshly squeezed
1 teaspoon lemon zest
1/ 2 teaspoon cinnamon or ginger or "Dusk" spice blend
1 tablespoon Turbinado sugar, or any coarse grind sugar
Additional butter for the pan
INSTRUCTIONS
Position an oven rack into the center of the oven, preheat oven to 350° Line the bottom of a 9-inch springform pan with parchment.  Make sure the pan is securely fastened, then generously butter the sides of the pan.  Set aside.
Combine the flour, baking powder, baking soda and salt in a small bowl. Set aside.
Slice the fruit lengthwise and remove the pit. Slice into about 1/ 3" to 1/ 2" thick wedges.  Place in a medium sized bowl; add the lemon juice, lemon zest and spice.  Stir gently to evenly coat the fruit.  Set aside.
In a large mixing bowl, using a handheld electric mixer, cream the butter until smooth. Add the sugar and beat on medium until light and fluffy.  Add the eggs, one at a time, mixing well after each.  Add the vanilla.
Add one-half of the flour mix, blend in slightly; then add one-half of the yogurt. Repeat with the remaining flour mix and yogurt, taking care to just mix thoroughly, but do not over beat the batter.  The batter will be thick.
Pour the batter into the prepared springform pan, leveling it with a spatula. Arrange the sliced fruit atop, avoiding too many overlapped pieces.  It is okay if some batter is uncovered, where it will rise during baking.
Bake for about one hour. Test doneness by inserting a toothpick into the center of the cake.  If it comes out clean, with no batter clinging to it, the cake is ready.  Remove and place on a wire rack to cool.  After 10 minutes, remove the sides of the pan.
May be served slightly warm, or completely cooled. Finish with additional fresh fruit, or a dollop of whipped cream or vanilla ice cream.  Any leftover, good luck with that, makes delicious breakfast fare.
Please follow and like us: